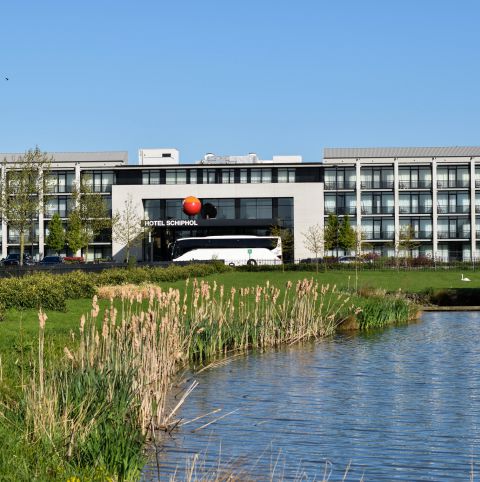 3.90 meter Below Sea Level
Hotel Schiphol A4
Rijksweg A4, afrit 3
2132 MA Hoofddorp
Haarlemmermeer, Nederland
Centrally located near Schiphol airport and close to the sparkling center of Amsterdam. At Hotel Schiphol A4 you will find luxury, comfort, hospitality, 673 hotel rooms, 22 inspiring conference rooms with a maximum capacity of 1500 guests, the platform for a successful meeting.
Next to highway A4 close to Schiphol
Comfortable hotel- and meeting facilities
Free parking
Modern business Center
The business lounge is located in the conference center on the first floor. Breaks and lunches can also be arranged in the business lounge. We also offer the possibility to create your own event office where you can organize matters such as registration and administration. This office is also situated on the first floor.
All conference rooms distinguish themselves by natural daylight and a spacious set-up. Comfortable seats, air-conditioning and all modern technical facilities will help you get the most out of your meeting. All rooms are equipped with a beamer and a projection screen.
Catering
Hotel Schiphol has an excellent restaurant where you and your guests can enjoy an extensive breakfast buffet, a lunch buffet or à la carte lunch or dinner with diversity of delicacies from different parts of the world. Breakfast, lunch and dinner at Hotel Schiphol is a combination of delicious food and perfect quality. Whether it is an extensive dinner buffet, intimate dinner for 20 persons or a fantastic gala dinner for a 1000 persons: it will always be a unique experience with us.
Bootcamp & Sport
Hotel Schiphol A4 offers a gym, a boot camp module outdoor, a running park and we have several running courses (between 5 and 18 km) in the surroundings of the hotel available. Because of the beautiful surroundings you will enjoy your run! In our gym you can improve your condition and strength with a view on our beautiful garden.
Specifications
Centrally located on the east side of the A4 motorway near Schiphol Airport
Free parking during your stay
Free shuttle service from and to the airport
673 hotel rooms
22 conference rooms in total of which 18 conference rooms are situated on 1 floor
Conference event hall of 2000m2 with ramp
Wellness center, gym and spacious indoor pool.
Luxury business lounge for breaks
Free high speed Wifi
Natural daylight in the meetingrooms
Comfortable seats
Flexibility and a team that gladly thinks along with you
Terrace for breaks
Suitable for large (inter)national conferences
Extensive hot and cold lunch buffet in our restaurant
Breakfast buffet open from 5:00 p.m.
Facts
Event location

Convention Centre

Meeting centre

Close to the highway

Parking spot

Shuttle service

Bike rental

Swimming pool

Sauna

Fitness
Overview
Number of single bed rooms

22

Number of double bed rooms

28

Number of twin rooms

623

Number of rooms

673

Number of beds

1300